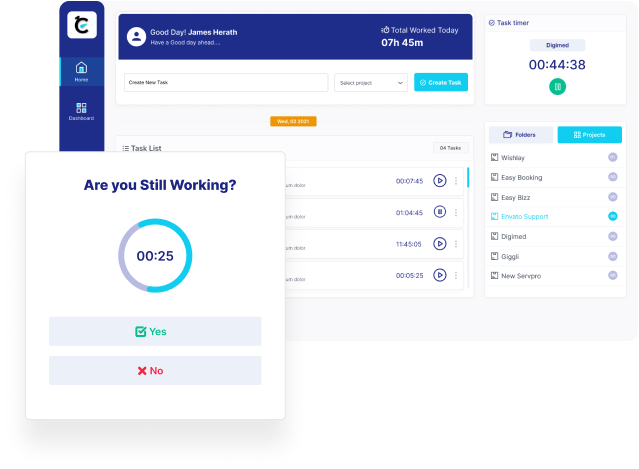 Best Employee Time Tracking Software
Real-time automatic time tracking with Web usage

Automatic time tracking

Track tasks and projects

Generate accurate timesheets

Get quick activity reports

Flexible and affordable
Start Your Free Trial
More Efficient and Productive
Our time tracking software comes with task tracking to help your company be more efficient and productive. Employees log hours to particular areas like a task, project, location, or client, and it's a cinch for you to generate insightful reports to analyze all essential details.
Automate Attendance Management
With our user-friendly employee attendance management software, there is no need to examine managers for approvals and employees' working hours. Rather than, automatic reminders assist everybody update their timesheets or leave schedules every time, on time.
Maintain Every Aspect in Single Click
The payroll report produces all the general hours and overtime and features built-in employee timesheet approvals to make your work easier. You are no more searching and collecting data from systems into a spreadsheet. It's also another thing our time tracking tool makes easy.


All-in-one employee time tracking software to track work time and manage projects.
Time tracking made easy!
Try a Free Demo